Greetings Earthlings! 🙂
Today I'd like to touch on one of the most commonly observed autistic behaviours- "stimming".
So what exactly is "stimming?"
Self-stimulatory behaviour, (also known as stereotypy or "stimming"), refers to many of the repetitive behaviours often exhibited by autists. Examples of these behaviours include scratching or rubbing the skin, noise making, smelling objects and the classic examples of rocking and  hand flapping, although in my experience it's a lot more like 'Jazz hands' than flapping!
There are two psychological theories as to why autists stim:
As a response to overwhelming sensory stimuli
As a means of relieving stress and anxiety
From a physiological perspective, there are a number of possible biological reasons.
Some researchers believe that stimming provides the autist with sensory stimulation. Contrary to common belief, many people with autism have a reduced sensitivity to certain sensory stimuli. Dysfunctions in the circuitry of the brain mean that the body craves sensory stimulation, and so we adapt repetitive behaviours in order to stimulate and excite our nervous system.
Deficits in dopamine levels in the brain can also interfere with our reward pathways, leading autists to engage in behaviours, such as stimming, which will provide the extra hit of dopamine that the brain needs.
So that's why I'm drawn to fluffy things! 😉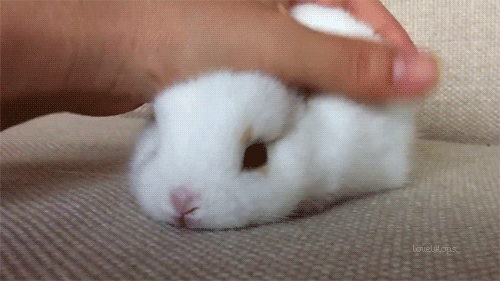 Aside from being drawn to stimulatory texures, I have a particular tendency to fidget with the silver chain around my neck. I just find something oddly soothing about the rough sensation of the metal against my skin! 😛
In my experience, I also find that stimming isn't always a response to stress, but born from a need to keep my hands busy.
As I've discussed previously, research shows that autists have higher levels of excitatory neurotransmitters such as glutamate, and lower levels of calming neurotransmitters in the brain. As a result, we are often hyper-stimulated. Stimulation of the brain's reward system, i.e.  dopamine release through "stimming" behaviour, causes a decrease in glutamate levels, effectively calming the brain!
This would explain why I've often found that stimming sometimes helps me to concentrate and clear my mind by channeling any excess energy into a physical action. I find this particularly helpful when I'm studying, or writing, and for some strange reason while I'm waiting for the microwave to ping! 😛 #excitedforfood
Stimming can also be considered a form of self injurious behaviour, but I'll write a separate post on this topic at a later stage 🙂
So is there anything that can be done to control this type of behaviour?
Try replacement behaviours– if the stim is not socially acceptable or harmful, as in the case of biting behaviours, attempt to replace the stim with another one such as a fidget toy or chewing rubber
Exercise– there is evidence to suggest that exercising can decrease the frequency of stimming behaviours, although the research is unclear why
Cognitive behavioural therapy (CBT)– is thought to be useful as self stimulatory behaviour operates in a similar way to OCD tendencies which are often managed through CBT techniques
Medication– Seems there's a pill for everything these days! Medications can be used to help modify compulsive behaviours such as stimming, but I personally would not advocate this route
So there we have it Earthlings, a brief insight into stimming behaviours in autism! 🙂
Enjoy the weekend everyone! 🙂
Aoife