Greetings Earthlings! 🙂
As we head into flu season, I thought I'd explore some of the challenges that face autists when it comes to feeling unwell.
We all know the glorious sensations that accompany common illnesses, the coughing, the vomiting, aches and pains and that delightful swollen head feeling that makes it hard to remember what breathing feels like! 😛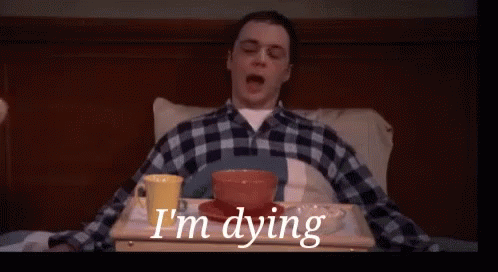 Now imagine you have autism- you are hypersensitive to stimuli such as temperature changes, struggle with change, and do not cope well with discomfort. On top of this, your struggles to communicate might make it difficult to convey that something is wrong. Most children will tell their mother that their tummy hurts; an autist may struggle to identify or describe a medical problem to a parent or doctor, especially in nonverbal cases.
It might just be a simple cold or bug to a neurotypical, but to an autist, it may be an entirely overwhelming experience.
One of the biggest challenges that I faced growing up was not so much coping with illness, (I have been known to go out clubbing whilst suffering from a bug or the flu!) but treating it.
I HATED taking medication!
Taste aversion was a big issue, mostly because medication came in foul tasting liquid form! Here's a fairly accurate representation of my face after swallowing medicine:
Every year my mother and I would go to war to get me to take my cough bottle or antibiotics. I would try it once, discover it tasted rancid, aaaaannnd then do everything my twisted sense of logic would come up with to avoid taking it. I would often pour out the medication when she wasn't looking, or pretend I was old enough to dose myself so I could get away with not taking it! 😂
Didn't work out so well though when things got worse… 😛
I know! I should have know better- but don't  judge me too harshly, seven year olds are not well versed in the concept of antibiotic resistance! 😛 😉
Tablets were a little easier, but tricky to get used to the sensation of swallowing them at first. Once I discovered that antibiotics came in tablet form as an adolescent however, I became far more amenable to knocking them back! As the guys from Pringles say- "Once you pop, you can't stop!" 😉 Although I may still recoil as the tablet slips down on occasion, especially if it has an unfortunate taste, or even worse, a powdery texture…!😬
Getting an autist to take medication can indeed be quite a daunting task, but here are some of my top tips for parents struggling with this problem:
Mix liquid medications into another drink or yoghurt– Ok, I know this feels a little bit like wrapping tablets in meat to get your pet to take them, but there is method in the madness! My mother used to mix antibiotics or antihistamine in with my juice or flat coke when I would refuse to take them. For the most part this worked, but sometimes I found the combination tasted just as bad- so trial and error! Just make sure that they consume the whole thing to get their full dose.
Ask for tablets not liquids– Granted, you can't get tablets before the age of 12, but if given the choice- take the tablets. There is far less chance of taste related rejection!
Bribery- My mother was always particularly fond of this approach. To first encourage me to take propolis tablets, I was promised a fun-size bag of Malteasers if I swallowed them without complaint! Needless to say- it worked! 😉
Make a game of it- Why not try and use a specialist interest to encourage them to take their medicine? 'It's a magic potion to make you feel better!', 'This is what makes the Hulk strong!' 'See- it's pink like Barbie; her favourite drink!' My mother tried something like this by writing a note on a box of meringues to say that she had cast an engorgement spell on them to keep me from eating them! I was a bit older at the time, so I mostly ignored it, but I got a chuckle out of it at least! 😛 😉 Had I been a stubborn 6 year old however, I definitely would have fallen for it.
Failing all that- try to stay healthy folks! Wear your warm jumpers, take your multivitamins (although the scientific jury is out on whether or not these are actually useful!) and your apple a day and hopefully you will keep the doctor away 😉
Enjoy the weekend everyone! :)`
Aoife