Greetings Earthlings! 🙂
Today I'm going to discuss one of the most common autistic traits- difficulty with eye contact. This can be particularly troublesome when it comes to situations such as job interviews where good eye contact is important to success.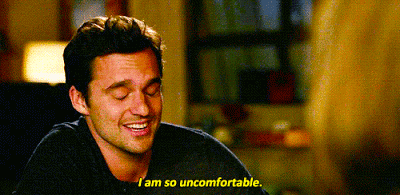 Growing up, I was often told by my family that I had trouble with eye contact, but I never really noticed much myself until I was older. On some level I knew that making eye contact made me feel uncomfortable, but I never really gave much thought as to the reason. We just sort of assumed that I cast my eyes away for lack of self confidence.
In my experience, making eye contact just feels awkward and weird to me. I've never really been able to explain why, it just does.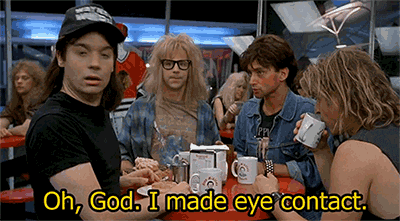 Over the years, at my family's insistence, I gradually learned to force myself to make eye contact. There are still times when I find eye contact uncomfortable (if I'm mid or teetering on the edge of a meltdown, any attempt to lock eyes goes out the window!), but I've found ways to get through it.
Since receiving my diagnosis, I've noticed that I seem to have automatically adopted a coping system for making eye contact in close quarters. I make the contact, hold the gaze for an appropriate amount of time, then look away briefly before returning to centre. Other times, I move my gaze around to focus on different group members, breaking the contact just enough to remain comfortable without coming across as weird (I hope 😛 😉 )!
It kind of looks something like this:
Top Tip: If you feel uncomfortable making eye contact as you're walking along the street, I find that wearing sunglasses (provided the weather is somewhat appropriate 😉 ) can be a great help 🙂
So what does the scientific community make of our struggles with eye contact?
One study suggests that the reason we avoid eye contact is actually related to how we process visual information. In this study, children with autism were shown images in both the centre and periphery of their vision. In a neurotypical brain, a large portion of the brain's cortex is dedicated to processing information in the centre of your visual field. In the autistic brain, a larger portion of the cortex was engaged when the image was shown in the child's peripheral vision.
In other words, we have more neurons dedicated to processing peripheral visual information, hence why direct, central eye contact is often avoided.
We've known for a while that autists perceive the world in a unique way, now we know that we actually see the world differently too! 😉
Have a good weekend everyone! 🙂
Aoife