Greetings Earthlings! 🙂
This week I'd like to conclude my review of the Rosie trilogy by discussing autism in the book 'The Rosie Result' by Graeme Simsion.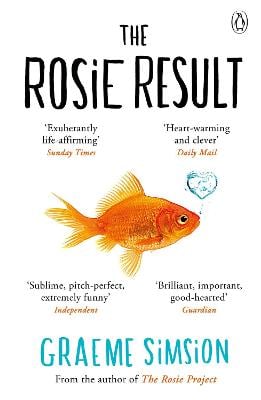 So what is the book about?
The third book in the series picks up with Don and Rosie several years after 'The Rosie Effect' as they prepare to move back from New York to Australia with their son Hudson. Hudson naturally shares many of his fathers quirks, and following his enrollment at a new school, the teachers are quick to recommend him for an autism assessment. Determined that his son will not be disadvantaged or pigeonholed by such a diagnosis, Don takes a sabbatical from his career as a geneticist so that he can devote his time to Hudson and impart on him the many coping mechanisms that he himself has used to "fit in" (aka 'The Hudson Project').
Here's a fun little trailer for the book:
So how did this book compare with the others in the series in it's portrayal of autism?
I really enjoyed the book, however, many ranked this book as their least favourite, with some even criticizing it for portraying autistic characters as "caricatures" of autism. For the first time in the trilogy, the subject of autism is tackled head on, and to an extent I would have to agree with this summation of the books portrayal of autism. There are several autistic characters in the book, and indeed many of them are quite stereotypically nerdy, Sheldon-Cooper-esque types. Hudson is indeed cut from the same cloth as his father, and naturally has many of the same classic symptoms of Asperger's Syndrome, such as his aversion to change, fondness for routine, niche specialist interests, sensory sensitivities etc. Granted, as Don's son you would expect similarities, but as autism is unique to the individual, it would have been nice to add a different twist to Hudson's traits.
Regardless of this, it was a highly entertaining read and I would highly recommend it as a lockdown distraction. Yes, the character's are stereotyped, but this book does challenge our perceptions of autists in a lighthearted humorous manner- a refreshing change from the doom and gloom that is often depicted around autism in popular culture 🙂
Hope you enjoyed this post dear Earthlings! 🙂
Have a lovely weekend!
Aoife