Greetings Earthlings! 🙂
So this post might seem a little unusual, but as the difficulties faced by autists when it comes to haircuts has been doing the rounds on social media of late (for the record- I LOVE getting my hair cut! 😀 ), I thought I'd write a quick post about something small that I find a sensory challenge- trimming my nails.
My friends have been complimenting my nails a lot this week, which is a little odd seeing as I have not cut them since 2002! 😲 Yep- nail trimming freaks me out that much! 😂
Once my mother stopped trimming them for me, I have refused to put a nail scissors or file anywhere near them (save for a manicure in 2005- an experience I have not sought to repeat! 😛 )!
Don't worry they aren't freakishly long- I use my hands so much with my hobbies that they never seem to make it past a certain length!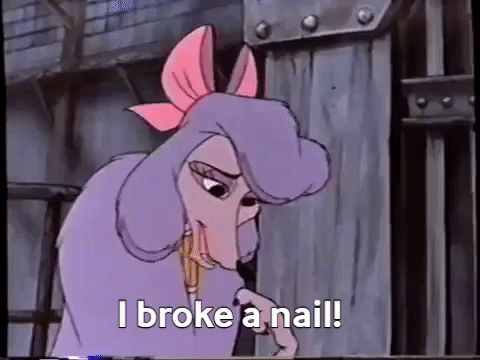 Trimming/filing my fingernails has always freaked me out. It's really hard to describe, but for some reason it feels really wrong to me! There's just something unnerving about nail scissiors cutting so close to the skin that it sends unsettling shivers up and down my spine. Nail filing in particular sends me into cringing convulsions-my hands are tensing up into balls just now at the thought of that abrasive piece of cardboard against my skin! 

Oddly enough I'm fine with toenails, unless I cut too close to the skin 😛
I know I shouldn't be unnerved by such an innocuous every day process, buuuuttt my brain just doesn't seem to want to deal with this type of stimulus! 😛
Nail trimming issues are actually quite common among autists. This can be particularly troublesome if an autist is prone to skin picking or self injurious behaviours.
But there are some tricks that can help:
Trim your/your childs nails after a bath– this can soften the nail to make the task more comfortable
Pressing down on the nail before trimming– this application of deep pressure can temporarily reduce sensitivity
Distraction and Bribery– if you are cutting nails for an autistic person, try using bribes or distracting the person with something (particularly their specialist interest) to get the job done
Try not to keep the nail too short– aside from the weirdness of cutting my nails, if they were cut too short, or if I sustained a bad break, I found (and still sometimes find) this particular sensation quite unsettling (for want of a better term)
And if all that fails, you can always allow life to trim your nails for you like me (just maybe try to steer clear of your siblings if your nails are a little bit on the long side…😬)
Enjoy the weekend everyone! 🙂
Aoife